By Rubina Obaid
www.asianbiomass.com

The evergreen perennial tea plant is cultivated worldwide under tropical humid climate conditions, also contributes greatly in sinking in carbon from the atmosphere. Various tea bushes are grown in combination to minimize possible detrimental effects of biotic and abiotic stressors. Tea gardens have great potential to absorb carbon dioxide from the atmosphere, however the ability of tree bushes to mitigate global warming has never been quantified. Researchers are now working on small tea gardens to sprawling tea estates in Assam, Northeast India; trying to unravel the capability of carbon sequestration and tuning climate change. Assam alone produces more than half of India's tea and is about 172 years old.
According to the latest survey by United Nation, global demand for tea is growing more than two percent every year, hence the pressure of cultivating tea is increasing.Tea gardens in Sri Lanka playing pivotal role in carbon sequestration. Researcher Rinku Moni Kalita said that the woody perennial-based land-use system possesses high potential of capturing and storing atmospheric carbon dioxide, one of the major causes of global warming and climate change. He further added that leguminous shade trees and its various species are a key components of tea agroforestry system (AFS) that provides necessary cover to the tea bushes. Few of the common species include silk tree, black siris, Indigofera teysmanii and casia which are of great help in building biomass carbon stock, that improve the quality of soil and also microbial activities.
It has been found out that the soil component of Assam holds great proportion of carbon stock which has been followed eleven percent by shade tree, five percent by tea bush and four percent by litter component in the system added by Kalita an Assistant professor, department of botany of Biswanath College. Tea agroforestry system soaks in significant quantity of carbon every year, average sequestration has been quantified as 5.98 megagram per hectare every year. This reflects that the plantation of tea soaks in around 6000 Kg per hectare of carbon annually. If tea plantation is maintained under specific conditions then average annual potential of carbon reduction of tea agroforestry was projected to be 0.86 Mg that is 860 Kg per hectare every years. Whereas 57.3 percent of carbon sequestration is done by shade trees and 42.7 percent by tea bushes.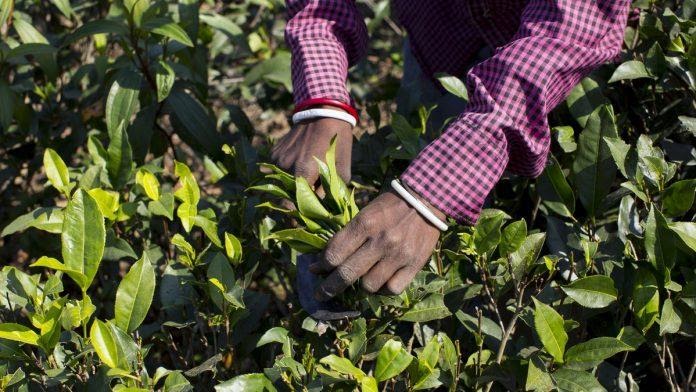 There are multiple factors involved in managing carbon storage dynamics such as selection of shade tree, biomass stock maintenance and plantation age. Tea gardens in Sri Lanka playing pivotal role in carbon sequestration. Majority of the shade trees are native species and mixing it in tea gardens is important for experiencing drastic change in climate like delayed monsoon. For a long time tea growing areas have been experiencing either long rainless spells or intense rainfall in recent years that cause water logging or in some cases soil erosion in tea gardens, according to a study was conducted by IIT Guwahati, also raised the concern for the rising temperature. Kalita also said that the role of small tea growers may be considered as an interesting compromise for attaining a better balance between growing agriculture, economic development and take measures against deforestation.
Assam industries and commerce department states, on the emergence of small tea growers that the business has been shifted from rich to common man especially unemployed youths who would want to venture tea business and some of them would even cultivate in their backyards. Kalita's studied 100 years old Jalinga Tea Estate, as his sampling site that uses specific method for ensuring 75% of carbon reduction of greenhouse gas emission potential as compared to any other tea estate. The specific composting method ensures abundance of soil microbes and sufficiently fulfills the atmospheric nitrogen needs.
Another important aspect of tea gardens is strong supporting role chipped in for successful implementation of reduced emissions from deforestation and forest degradation (REDD). A financial instrument for incentivized conservation and sustainable forest management to achieve GHG reduction that results due to deforestation and forest degradation. It compensates forest owners for conserving their forests specifically in developing countries. According to a Sri Lankan researcher Thushari Wijeratne Tea plantation is showing impeccable potential to positively contribute for a better ecosystem.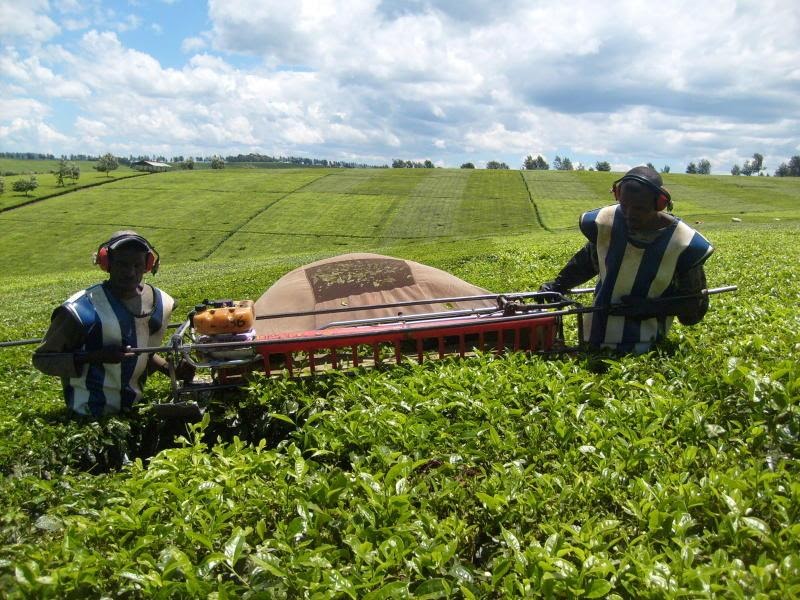 Investigating the potential of carbon sequestration by tea gardens is considerably important to generate the data for precise documentation of REDD to build up greenhouse gas inventory, said Wijeratne. It may also serve as an additional income for environmental services of tea plantation. A recent study has been conducted by Prabhat Pramanik, scientist at Tea Research association also quantified the capability of tea plantation along the banks of Brahmaputra river for understanding the mitigated greenhouse effects, and found out that tea bushes sequestrated around 5134 Kg of carbon dioxide per hectare per year in their biomass, while the value represents 56.2 percent of the total carbon sequestration potential of the tea gardens in Northeast India. He further added that the study was of great help in understanding and identifying that how tea bushes play essential role in curtailing global warming by sinking in atmospheric carbon dioxide .